Koko has stocked Qudo for a number of years, overtime our range has grown.
For those of you who aren't familiar with Qudo…
Qudo specialise in interchangeable jewellery. Their FAMOSA collection consists of rings, necklaces, bracelets and earrings where you can interchange the gem stones. The ingeniously designed Swarovski gem tops simply twist on and off to update or transform a look instantly. Choose from a kaleidoscope of colours and beautiful gem top designs to create your own look! The rings are stackable so you can combine colours and styles to create a real impact! Everything co-ordinates perfectly and is beautifully made and finished by Qudo in Germany.
Qudo – incredibly hard wearing
All the Qudo jewellery is Stainless steel or stainless steel coated in 14ct Rose Gold IP coating. Fabulous Swarovski Crystals are at the heart of this beautiful and cleverly designed range. They are amazingly sparkly and so many people will stop and ask you about your jewellery.
Qudo – Base rings
You can choose from a range of different base rings of broad or slim design. All base rings fit all the gem stones. There is currently a choice of 5 base rings. The original thin and thick plain band, both a classic style, very smooth and comfortable to wear. Then there is the deluxe band, the same thickness as the thin band but with added bling! The Ancona ring ( we call it the bubble band) is a little bit different, you can still screw in a gem stone but this band can also be worn without a stone – giving you even more options. Finally the Segni textured band, the newest ring in the FAMOSA range. This band is a little bit different and has a slightly smaller profile to the other thin band. So many combinations and choices!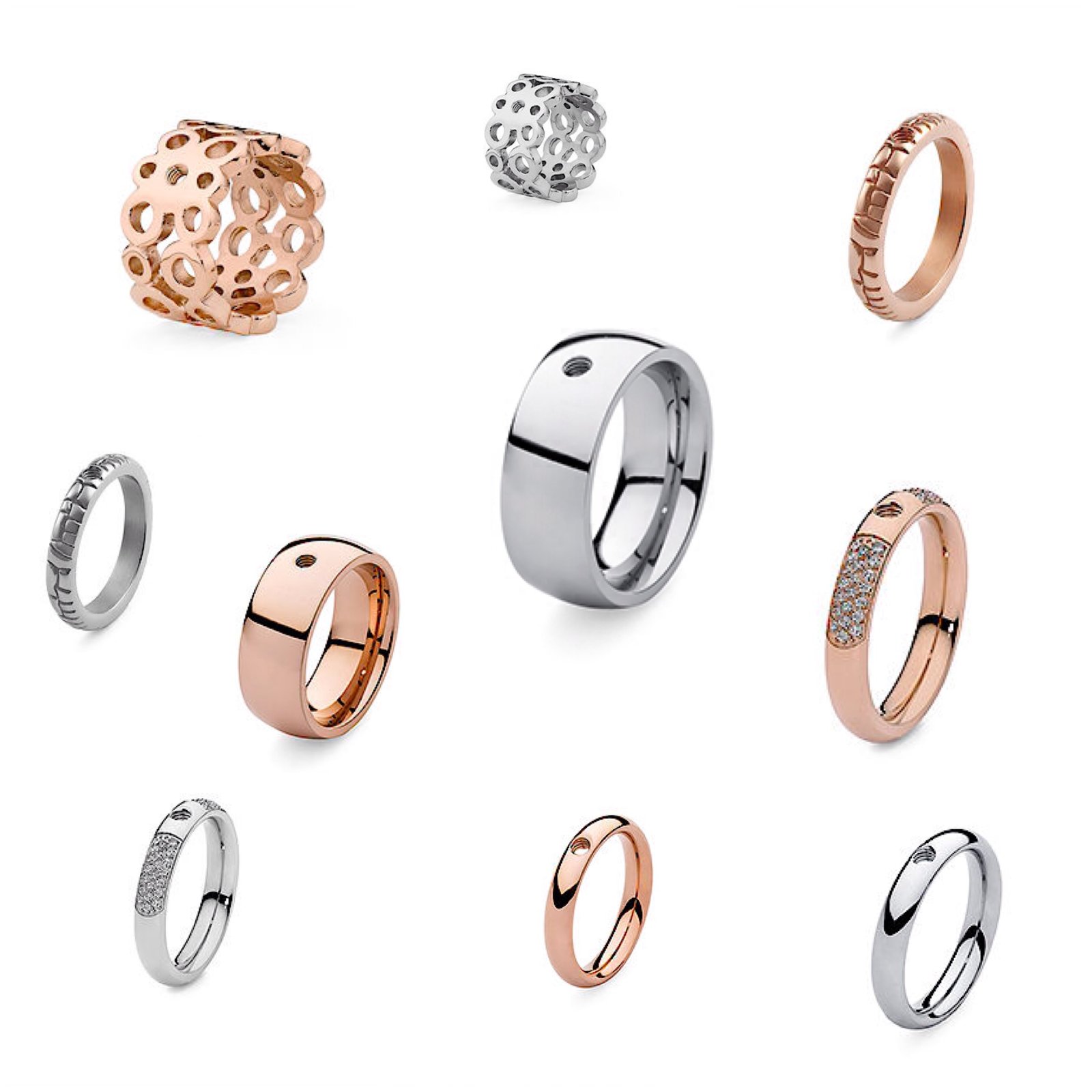 Qudo – Spacer rings
Spacer rings are great for creating your own unique style. With two different types to choose from. The original spacer Nueva Deluxe with its small sealed in crystals makes a great everyday ring on its own or can be stacked with your favourite FAMOSA band and gem stone. The new addition, the Matino is small and dainty and looks great worn with two either-side of a plain thin band. The choice really is yours!
Qudo – Necklaces, Bracelets and Earrings
You can now extend your collection even further and create a whole set! The bangle allows you to interchange two gem tops. Mix and match gems to match your rings. Choose from three different FAMOSA basic necklaces, one or two tops can be attached to each necklace, depending on the necklace design. The new FAMOSA earrings allow you to complete your look and combine them with every gem top!
Qudo- The Gem tops
Choose from 39 different FAMOSA gem tops. All compatible with all basic rings, necklaces, bracelets and earrings. Choose anything from a small round stone to a large butterfly or heart. You can really create your own unique combination and style!
Koko Official Qudo Stockist
Koko specialises in Qudo jewellery and we always have a massive stock in both our retail shop and online. If you are looking for a particular stone and can't see it, or it is out of stock please drop us an email sophie@kokogifts.co.uk or ring us on 01656773736 we are always willing to help and can order any Qudo items.
Shop now for Qudo at Koko gifts http://www.kokogifts.co.uk/qudo 
Hope you love Qudo as much as we do!
Sophie x